I was a wedding planner long before I ever got married. Long before I ever met "the one". As a matter of fact, I was not a little girl who had hazy or crazy dreams of my wedding day.
So when our time came, I had seen just about it all. I wanted our day to be different. I knew what was important to me and I knew what I didn't want. And we planned it all in less than seven months.
We planned it all from the heart. And when I say "WE", I mean WE. We were a team from day one. We included all things important to us… which meant not becoming "someone else for the day". We incorporated the things that make us comfortable in our own home and own skins. And we never lost site of the fact that we were the hosts of the greatest celebration of our lives for the people nearest and dearest to our hearts.
The building we were married in was home to my dad's office while I was in college; The Portland Company was very new to the scene for private events and weddings. Fun to think of ourselves as "pioneers of the warehouse space". We made the spot our own.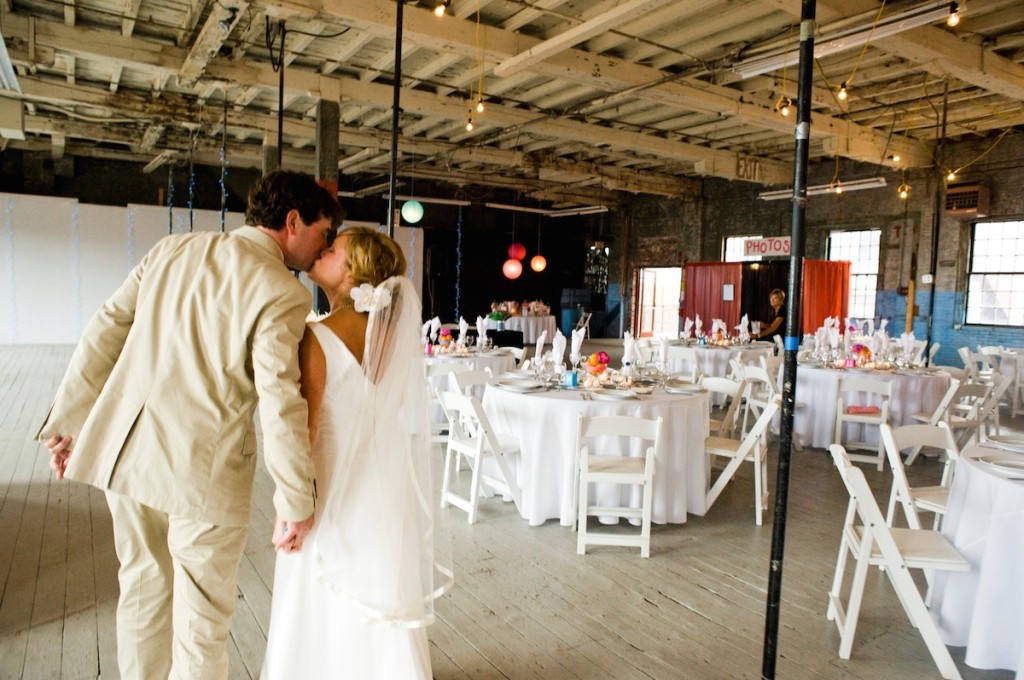 We saw saw each other before our ceremony. We met with our faithful sidekicks, Eloise and Otis. We then ventured to our favorite place – our every-Friday-night-haunt – for a drink before the walk down the aisle. But to be slightly traditional and to keep my (now) husband on his toes, I changed my wedding dress. His face was priceless and a moment I will never forget.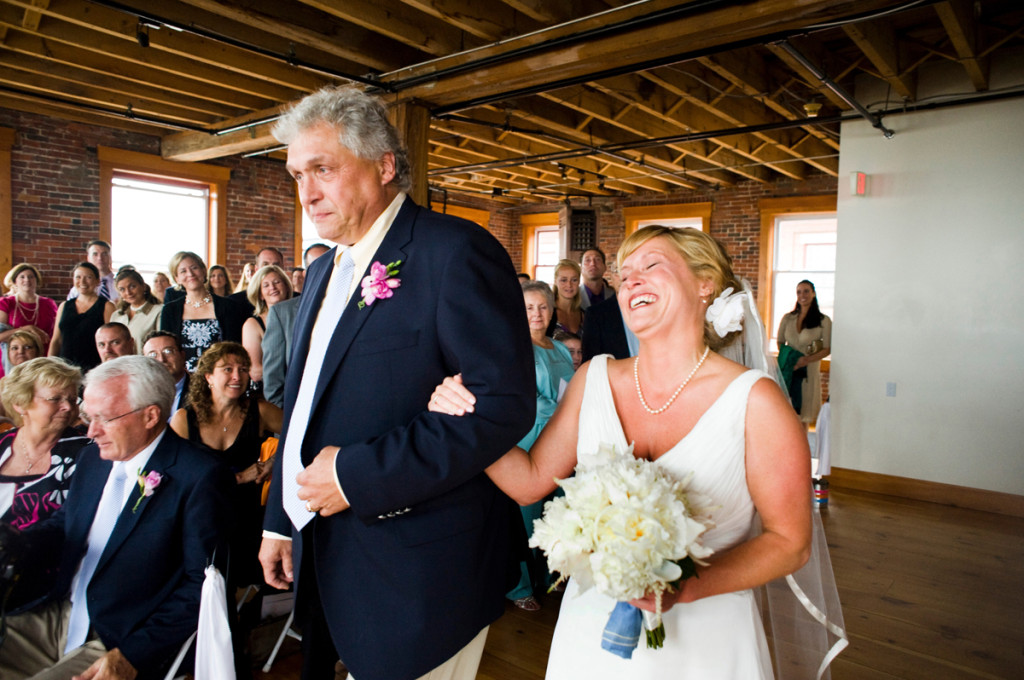 We selected an 80's dj (who spun tunes on vinyl) because that is what fuels our impromptu dance parties in the kitchen.  We had a rum and coke slurpee machine – something my girlfriend and I always discussed on the beach when we were in college. Our guests wrote us notes and clipped them to my mother's childhood bicycle. We had a bluegrass band we found at a local dive bar we frequented play our ceremony and cocktail hour.
Photography was at the top of our priority list. And Stacey Doyle killed it. This is the note I sent her from our honeymoon:
"I will look at these images often to re-live the day. and i know that we – and our grandchildren – will do the same thing for many years to come. Am thrilled you were able to capture the folly of our diy projects, the sheer joy on our guests' faces, the vibrant, quirky and furry pieces we love in our lives, the rebellious nature of our reception space, the roller coaster ride of emotion that we call "our day", a decent shot of me in my underwear, and the true spirit of M & L – including wings and horns … but most of all the way my (now) husband looks at me. for all of this, i thank you."
My Favorite Moments:
She said:
In our ceremony we had my Uncle read a letter my Grandfather had written to his future father-law asking for my Grandmother's hand in marriage. It was a bit of a nod to how it all began and most family had never heard it before. It was special … and funny.
Meeting for a drink before the wedding. It was just us. And it was so us.
We wrote our own vows and they were read for the first time at the ceremony. I remember being in that moment. And I am grateful our photographer caught that moment on so many faces.
Making the best guy in the world mine forever. I have been the most fortunate gal ever since.
But hands down the best was "The Great Wedding Dress Switcheroo". His face was priceless. All I could do was laugh as I came down the aisle. I got him.
My Favorite Moments:
He Said:
For starters, marrying Meghan. But that's a given.
Getting to be a rockstar for a day. That was cool.
Having a full day to ourselves that was just about us and our family and our friends. No work, no responsibilities, no outside pressures. Just us. And a lot of love.
The handshake from my dad right before the ceremony began. It was wish of luck but more importantly it seemed to say "You did good, kid".
Being able to throw a great big party. The actual wedding was amazing but what followed was such a great time, such a big celebration, delicious food, great conversations, reunions, music, laughter, dancing … dancing … dancing. We could have gone all night.
Watching Meghan "let it go" and instead of being the great wedding planner that she is watch her be the greatest bride that I knew she could be.
Knowing that this was the first day of many to come that I could call Meghan my wife.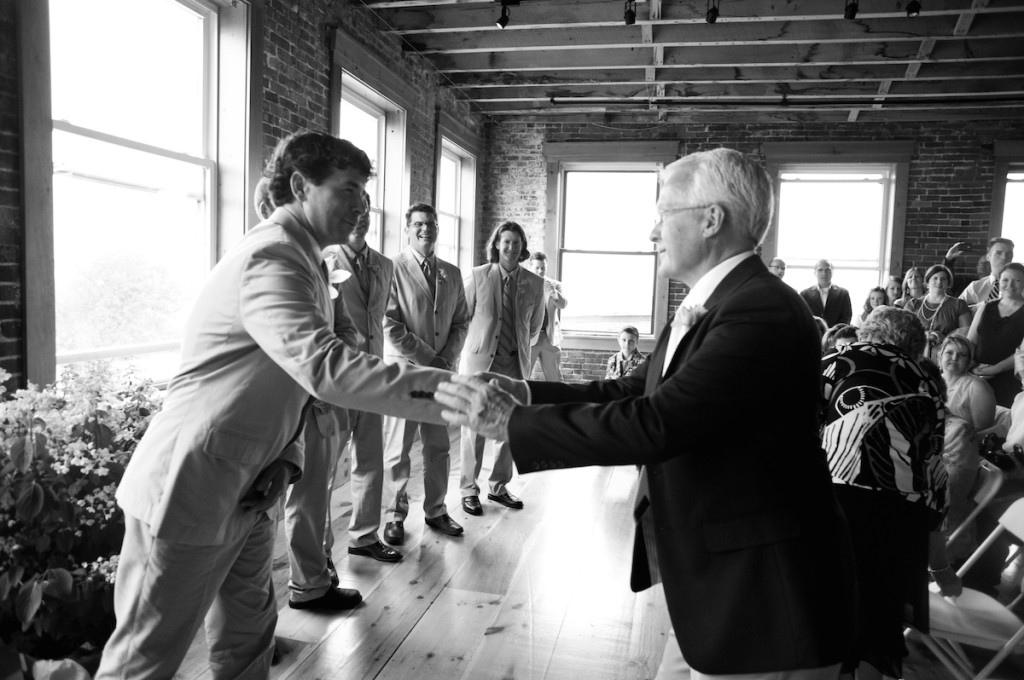 Things I Would Do Differently:
She Said:
I would change my hair. It was not awful – it just was not "me" – it was too "done".
I would make cocktail hour a little longer. An hour is simply not enough time to have to visit with family and friends. It would have been nice to enjoy the band and the space a bit longer before beginning dinner.
I would have had dessert. We had a sundae bar – ice cream is my weakness – and I was so busy dancing that I never made it there. Heard it was divine – especially the hot fudge sauce made from my grandmother's recipe.
He said:
Had someone else run our DIY photo booth. There were a few technical glitches throughout the night that I had to attend to but nothing major. Just a minor distraction from the rest of the evening.
Hired SharkPig to document our day in motion pictures. Meghan has since worked with them on other weddings and they are really quite amazing.
Remembered that our first dance song speeds up a bit in the middle so as not to look so clumsy when it happened (despite the fact that we danced to the song on many Friday nights after dinner).
Gone surfing on the morning of our wedding (but Meghan did give me an awesome surfing painting as a wedding gift and that was good enough for me).
Of course professionally there are a few things I might alter about my wedding day … But I would not change a thing. Not a single moment. Ever.
For more moments from the day check out Part Two of the story here.